Throughout November, we're celebrating the culture, contributions, and heritage of LA's vibrant Native American community with reading lists, programs, and special resources.
November is National Veterans & Military Families Month. Check out our special collections and resources, including Brainfuse VetNow for real-time online assistance from experts.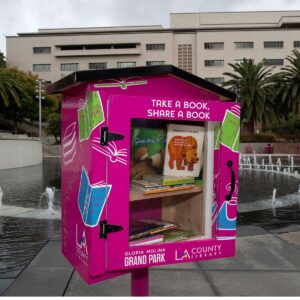 Take a book / leave a book at one of our new Little Libraries, recently installed at Gloria Molina Grand Park in Downtown LA! Books are free to borrow for as long as you like.
Looking for new recipes to try this autumn? Check out these new and recent cookbooks to spark your imagination in the kitchen.
It's National Novel Writing Month! Check out our resources for aspiring writers and let us help you write and publish the next great American novel.
Throughout fall, we're hosting clinics for free flu, Mpox, and COVID-19 vaccines at select libraries, in partnership with the Department of Public Health. No health insurance required.
Subscribe to receive updates via email.