California State Parks Passes
California State Parks Passes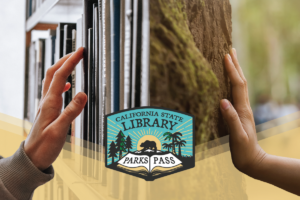 In partnership with the First Partner's Office and the California State Library, State Parks are providing free vehicle day-use entry to over 200 participating state park units operated by State Parks to library-card holders. The California State Library Parks Pass is valid for entry of one passenger vehicle with capacity of nine people or less or one highway licensed motorcycle.
Visit your local LA County Library location or Bookmobile to borrow a pass and plan your trip to a participating state park!
The pass will not be honored at state park units operated by federal or local government and private agencies or concessionaires. Also, the pass is not valid for per-person entry or tour fees (such as museums), boat use, camping, group use or sites, special events, additional/extra vehicle fees, sanitation disposal use or for supplemental fees. To see a list of  participating and nonparticipating parks click here, and read full terms and conditions here.
Frequently Asked Questions
Who can check out the pass?
Passes can be checked out by adults with a standard library card in good standing.
What does this pass cover?
The Parks Pass is valid for entry of 1 passenger vehicle with capacity up to 9 people or 1 highway licensed motorcycle.
Where can I use the pass?
While there are a great number of participating state parks and beaches, not all are included. You can find a list of local State parks and beaches that accept the pass below or take a look at this interactive map, which shows all participating state parks and beaches.
Please note that national parks like Yosemite are not covered by this pass.
How long can I checkout the pass?
Passes can be checked out for 2 weeks and are not renewable.
Where do I return the pass?
Pass must be returned to the library where they were checked out. Please return the pass, in person to the owning library during regular business hours. Park Passes cannot be returned in the bookdrop.
How many passes does my library have?
Each library location has 10 passes.
While fees for overdue materials were eliminated as of August 10, 2021, the Library encourages customers to return the park pass by their due dates. The park pass will be deactivated once the loan period has ended.
What if a bear eats the park pass?
Please report the lost pass to your library, as soon as possible. No fees are associated with lost or damaged passes.