Newspapers & Magazines
Free Downloads from Your Library
Download Free Magazines & Newspapers
Read your favorite magazines and newspapers on your computer or device, for free!
We have services that offer digital magazines and newspapers. Libby, by OverDrive and PressReader allow you to browse through your favorite magazines. PressReader offers direct access to thousands of magazines and The New York Times allows you to stay up-to-date with the latest news or look back at the archives. To search historical newspaper and magazine papers, see more options on our Databases Page.
What do you need?
You'll need:
Your LA County Library card
Your PIN
A computer or device with internet access*
*Data rates may apply when downloading to a smartphone or device
PressReader
Enjoy free, unlimited access to thousands of newspapers and magazines!
Get access to searchable content, print out articles, export to an eReader, change the language, build a collection, and receive notifications when the next issue becomes available. Have a look at how to explore with PressReader.
How does it work?
If you're on iOS or Android, download the PressReader app. If you're on a computer, visit the PressReader website.
Once on PressReader, click on the profile icon in the top right of the screen to access the sign in options.

Click the "Library or Group" button to sign in as a library user.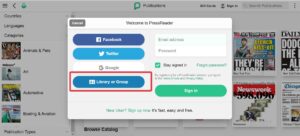 You will be asked to select a library. Search for "LA County Library."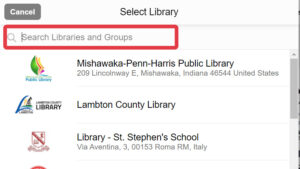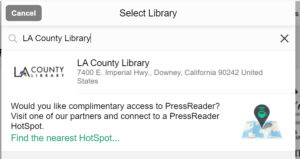 Enter your library card and PIN and click "Sign In."
Sign up for a free account on PressReader to access more features including saving topics, sharing, commenting, and adding favorite titles.
More information can be found on the PressReader help page.
Read full digital copies of your favorite magazines on a computer, tablet, or mobile device with Libby, by OverDrive You can checkout magazines for up to 21 days, with the option to renew. Titles are always available, there are no hold lists, and magazines do not count towards your checkout limit.
How does it work?
Start on your mobile or tablet by downloading the Libby, by OverDrive app. Available for iOS, Android, and Kindle Fire.
Once the app is installed, find our library: LA County Library (Los Angeles), select "LA County Library" as the card, then browse our collection. Find a magazine and borrow it using your library card and PIN.
If you are on a desktop or laptop, visit the Libby website.
Looking for the legacy OverDrive website? Find it here.
Need help? Find detailed instructions on Libby Help as well as Libby Help videos.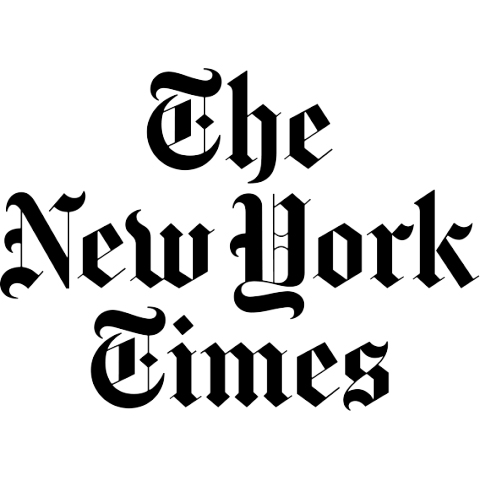 Stay up-to-date with the latest news or look back at the archives from The New York Times with 72-hour complimentary, unlimited access to the Digital Edition.
To get started, follow these steps:
Follow this link and click Redeem.
You'll be taken to a new page to create an account. Either add your email address and a password here, or, if you already have a New York Times account, click log in and enter your login information. You may check or uncheck the box about receiving updates and offers. Click Sign Up.
You'll be taken to a new Welcome page. Click Get Started.
You'll be taken to a new page to customize the stories you see. You can either follow the instructions, or you'll then be given an option to download The New York Times app. You can either follow the instructions, or click Go Back to Reading.
That's it! You now have access for 72 hours. The next day that you want to access, click the link from step 1 and redeem again. This time, click Log in and use the same login you created on day 1.
This process also gives you access to The New York Times archives, from 1851 to today. Once you're logged in, use the search function in the top left to find historic articles by topic or date range. You can also visit the TimesMachine to see PDFs of archived papers.
Please note: Access to NYT Cooking and Crossword is not included.