We are now offering Free Wi-Fi in our parking lots at participating libraries.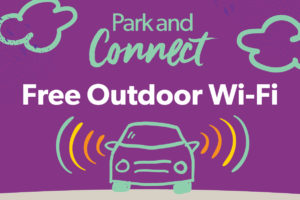 Visit one of our participating library locations and use your device to get connected for email, school, work, and more!
Getting connected is simple.
Park in a library parking spot
Bring a Wi-Fi enabled device
Connect to­ CountyLibraryWiFi
Read and accept the Wi-Fi Policy
Close and reopen your browser
Frequently Asked Questions
Do I need a library card to access free Wi-Fi at the participating libraries?
You do not need to have a library card to connect to our Wi-Fi. If you would like to sign-up for a library card, please visit any of our LA County Library locations.
Do I need a car to use Wi-Fi at the participating libraries?
You do not need a car to use the Wi-Fi outside the participating libraries. If you do not have a car, find a place to sit within 25 feet of the library.
Is Wi-Fi access filtered?
Yes, Wi-Fi access is filtered for all users by order of the Los Angeles County Board of Supervisors. Filtering cannot be removed.
What do I do if I cannot connect?
Library staff can confirm that the wireless network is functioning properly and give basic assistance. Call the library location you are parked at for assistance. Staff cannot assist in setting up personal laptops or devices to work with Wi-Fi.