About My Brother's Keeper Peer Advocates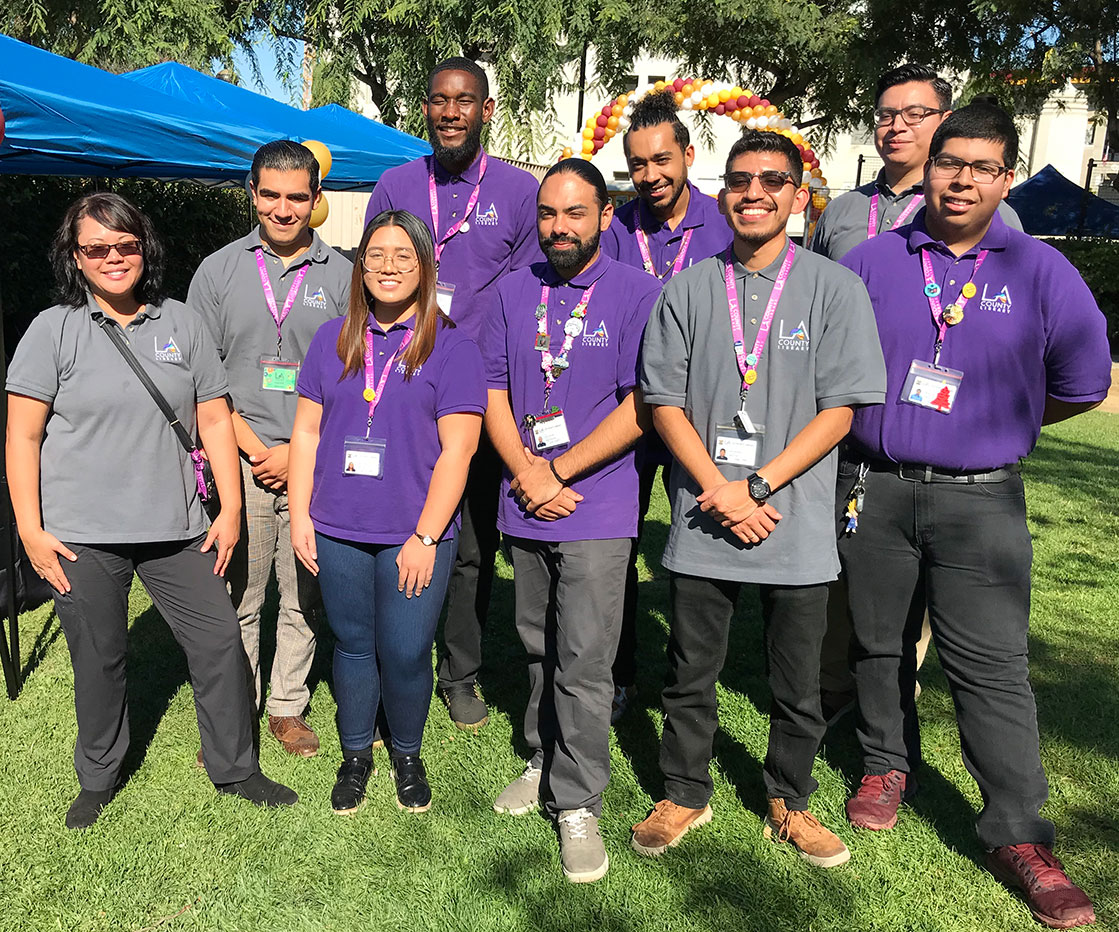 The My Brother's Keeper Challenge, launched by former President Obama in February 2014, calls upon cities, counties, and tribal governments to make a difference in improving outcomes for boys and young men of color.
Established in November 2018, LA County Library's award-winning My Brother's Keeper Peer Advocate (MBK PA) program brings young people of color into libraries as advisors and liaisons between Library staff and the youth of color in the high-need communities in which they serve.
The MBK PA program simultaneously provides mentorship, life skill-building, and on-the-job learning while drawing on PAs' lived experiences to build deep community relationships, develop unique Library programs tailored to community needs and interests, highlight Library resources, and advocate on residents' behalf to the Library.
As part-time Library employees, PAs receive an hourly wage, along with benefits, to support them financially during their education.
Locations & Opportunities
Carson Library has an immediate opening for an MBK Peer Advocate thanks to the very generous support of Carson native and NFL Linebacker Uchenna Nwosu.  Apply now!
Additional Locations (Currently staffed)
Position Details
As an MBK Peer Advocate for LA County Library, you will:
Assist the Library in supporting special projects, services and programming related to the Young Men of Color (YMOC)/My Brother's Keeper (MBK) Mentoring Programs initiatives
Work closely with Library staff in a supportive and creative environment
Learn and understand Library services and program offerings (both online and in person)
Serve on Library Youth Advisory Board
Attend and participate in programs related to MBK initiative
Create programs around your own passions and interests (see examples of past MBK Peer Advocate programs here)
Interact with and promote programs to youth and community stakeholders
Serve and help shape the future of the community
Expand your skills and knowledge by mentoring youth in your community
Get training and experience that can help with future schooling and employment
Hours, Pay, & Benefits
Up to 32 hours per week (flexible, scheduled during Mon – Sat)
Hourly rate of $17.50
Mileage reimbursement for Library work-related travel
Medical benefits eligibility (based on hours worked & maintained
over a given period)
Desirable Qualifications
High School Diploma/GED
Experience working in customer service roles
Flexibility and adaptability to change
Open to instruction, coaching, and mentoring
Have a passion for working with youth ages 8 – 17
Apply & Get More Information
What our MBK PAs are Saying
Our My Brother's Keeper Peer Advocates are an integral part of LA County Library's staff and are involved in the development of programs that speak to their own interests while receiving training and networking opportunities to further their own career goals. Here's what some of our participants are saying:
"At such a young age, I've been able to meet remarkable people and get great advice from them. This has helped me gain confidence on what I want to do throughout my career." – Justin H
"MBK has given me the proper tools, trainings, and skills to be able to take back to the teens in my community to show them that there's still a possibility of a second chance in life." – Julio C
Special Thanks to our Funders
The My Brother's Keeper Peer Advocate Program is generously sponsored by the Department of Public Health.
The My Brother's Keeper Peer Advocate position at Carson Library is sponsored by Uchenna Nwosu, in partnership with LA County Library Foundation.
If you are interested in funding an MBK PA position at an LA County Library location, please contact LA County Library Foundation at info@lacolibraryfoundation.org.