Veterans Resource Centers
Giving Back to Veterans with Dedicated Collections and Pop-up Resources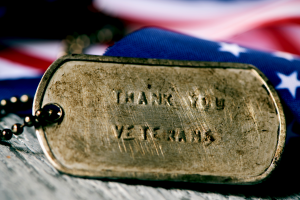 We're pleased to help veterans and their loved ones with our Veterans Resource Centers (VRCs). The first Center opened at Lancaster Library in 2015, and services expanded to 3 additional libraries: La Puente, Norwalk, and Lawndale, thanks to grants from Veterans Connect @ the Library, a project funded by the California Department of Veterans Affairs (CalVet), and the California State Library.
Each Resource Center offers access to a phone line, laptop, and wireless printing, and provides materials on state and federal benefits, and local services and resources in key areas like housing, healthcare, finance, education, and employment. VRCs are also equipped with a circulating collection of DVDs and books, including children's.
Information regarding local veterans' events is always available. Trained volunteers are on site to answer any questions visitors may have. Each VRC is open during library business hours; those interested in speaking with a volunteer are encouraged to contact the Library and make an appointment.
LA County Library understands that navigating veteran resources can be daunting, but its VRCs are there to help veterans find what they need to succeed, with a special focus on providing information to reintegrate California veterans into the workforce and communities in order to provide the same quality of life as other Americans. "Our veterans served us, so we are here to serve them," said Library Director, Skye Patrick.
Since November 2018, a pop-up VRC began visiting sites throughout LA County. Funded by the same Veterans Connect @ the Library grant, this mobile service visits community gatherings at veterans and LA County Library locations,  and provides Library and benefits information, and details about local events. For more information, visit our Veterans Resource Center page.