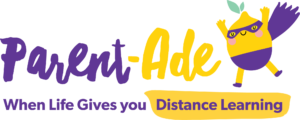 Virtual programs on Wednesdays:
4 pm – In English
5 pm – In Spanish
Haga clic aquí para obtener más información sobre este programa en español.
About the Program
Parent-Ade: When Life Gives You Distance Learning is a virtual program series and accompanying resources covering a variety of topics related to the challenges of parenting during this time. Get tips on:
How to use library resources to support distance learning.
Managing and tracking your child(ren)'s schoolwork.
Ways to help your child(ren) stay focused and on task.
How to support your student(s) and help them support themselves.
What challenges are you facing as a parent of a distance learner? How can we help?
Digital & Printable Flyer
Interested in helping to spread the word about this program?
Upcoming Programs
Our Parent-Ade virtual programs are taking a brief pause and will return on January 20. Please check back to this page for program details and registration links, as they become available.
Wed, Jan 20, 4 pm
Treating Yourself to "Me Time"
Learn about how making time for yourself can help avoid parent burnout, and simple things you can do for more "me time" moments.
Register here.
Wed, Jan 27, 4 pm
Working as a Team
Strategies and tips on how to work with your students, family, teachers, and other educators to best advocate for your child's educational success.
Register here.
Wed, Feb 3, 4 pm
Socially Distant Adventures
Get ideas for virtual and real-life experiences to have as a family during this time of social distancing.
Register here.
Wed, Feb 10, 4 pm
Staying Connected with Family & Friends
Hear about the importance of staying connected when you can't see people in person, and learn some creative ways to stay in touch.
Register here.
Wed, Feb 17, 4 pm
Signs of Stress in your Student
A licensed clinical social worker will explain how to identify signs of stress your child may be experiencing, and offer tips on how to help them.
Register here.
Wed, Feb 24, 4 pm
Balancing Work and Home
Feeling overwhelmed by changes to your work and home life? We'll be sharing ideas for finding a better balance and reducing stress.
Register here.