Library Card Sign-Up Month
Get FREE Goodies When You Sign Up for a Library Card!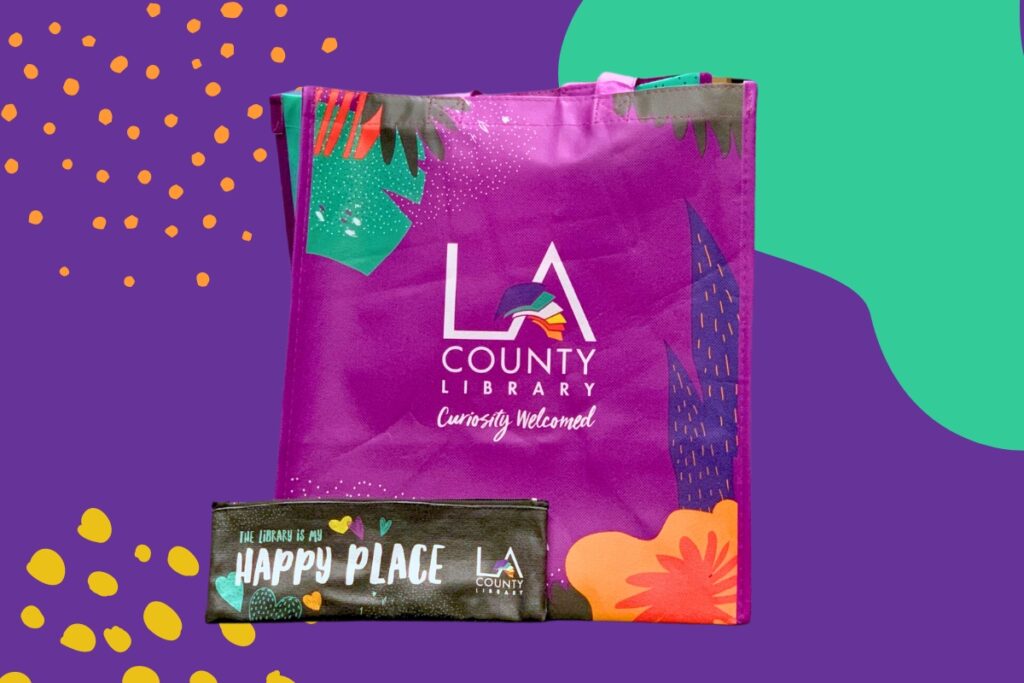 Did you know that September is Library Card Sign-Up Month? This is a great time to let your friends and relatives know just how easy it is to sign up for a LA County Library card! Plus, they'll receive a FREE tote bag and pencil pouch* when they sign up.
Already have a LA County Library card? We still have something for you! Visit your local library to add your email address to your account, and we'll thank you with the same free tote bag and pencil pouch gift! Of course, you'll still have free access to 85 libraries worth of books, CDs, DVDs, and more.
A library card also gives you 24/7 access to a huge collection eBooks, audiobooks, magazines, music, movies, and TV shows from OverDrive, Hoopla, Kanopy, and more. You can read, watch, and listen on any device!
Interested in developing a new skill, learning a new language, getting homework help, or playing interactive educational games? With our library card you can access a variety of online resources including LinkedIn Learning, Gale Courses, Brainfuse, Mango Languages, ABCMouse, and  much more. Our databases also enable you to conduct research across a variety of areas from auto repair to legal topics.
With a library card, if you can't find what you're looking for at your nearest library location, you can place an item in our catalog on hold and have it delivered to your local library. You can also visit us in person, and our staff will be happy to help you find what you are looking for.
Now that school is back in session, this is a time when libraries across the nation, along with the American Library Association, remind parents, caregivers, and students that the most important school supply of all is a library card!
You kinda have to ask, what cool stuff won't my library card get me? Share the power of an LA County Library card.
*While supplies last.