Free Lunch at the Library
Well Fed, Well Read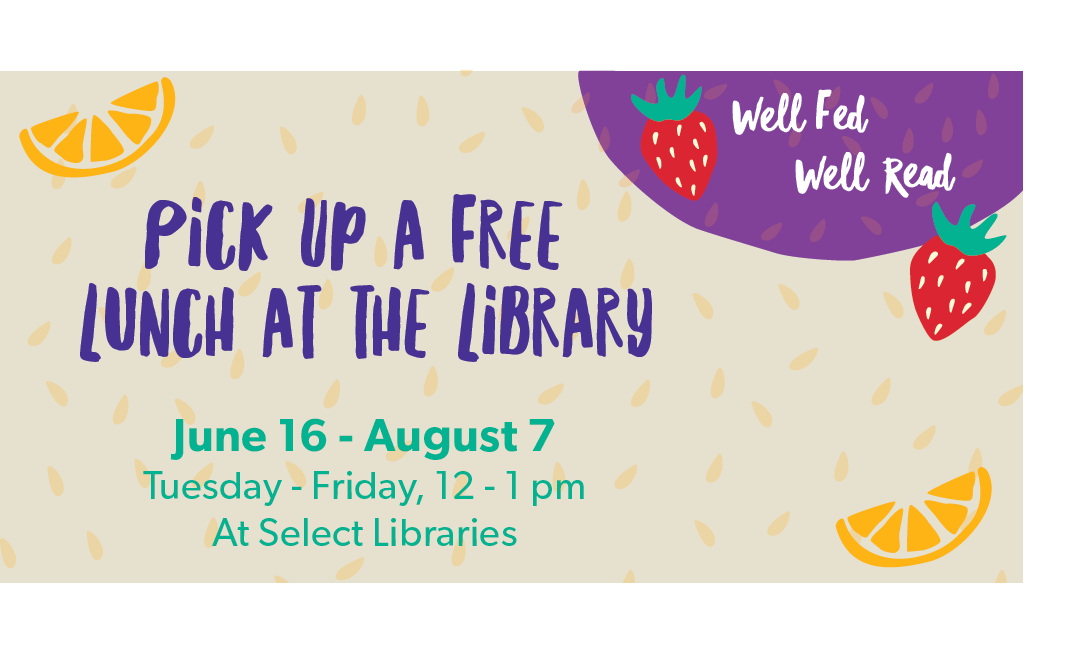 This summer, customers ages 18 and younger can visit a participating library and pick up a free nutritious meal.
June 16 – August 7*
Tuesday – Friday, 12 – 1 pm
Lunch is available for no-contact pickup on a first come, first served basis, while supplies last. There are no restrictions on family income.
Since 2015, LA County Library has been offering free, nutritious lunches to kids 18 and under with its Lunch at the Library program. It keeps children and teens nourished during the summer months, helping to ensure that kids return to school in the fall ready to learn.
Lunch at the Library is a partnership between LA County Library and the Los Angeles County Department of Parks and Recreation, and is supported by the California Summer Meal Coalition and California Library Association. This program is supported by a grant from the California State Library.
*Lunch will not be available at any locations on July 3.
Este verano clientes menores de 18 años pueden visitar una biblioteca participante y llevar un almuerzo nutritivo gratuito.
16 junio – 7 agosto*
martes – viernes, 12 – 1 pm
El almuerzo gratuito es disponible para llevar, por orden de llegada, mientras duren las
existencias. Sin restricciones por ingresos.
Desde 2015, la biblioteca del condado de Los Ángeles, ha ofrecido almuerzos nutritivos a menores de 18 años con el programa Lunch at the Library. Mantener a niños y adolescentes nutridos durante los meses de verano ayuda a garantizar que los niños regresen a la escuela listos para aprender.
Lunch at the Library es una colaboración entra la Biblioteca del Condado de Los Ángeles y el Departamento de Parques y Recreación del Condado de Los Ángeles, y cuenta con el apoyo del California Summer Meal Coalition y la Asociación de Bibliotecas de California. Este programa es apoyado gracias a una subvención de la Biblioteca del Estado de California.
*No habrá almuerzos el 3 de julio.