September 20, 2022
LA County First District Supervisor Hilda L. Solis, Baby2Baby, and LA County Library Partner to Launch Free Hygiene Products Pilot Program at Libraries
Press Conference at Baldwin Park Library Will  Kick-Off Giveaways of Free Diapers, Wipes, and Menstrual Products at 5 LA County Library Locations.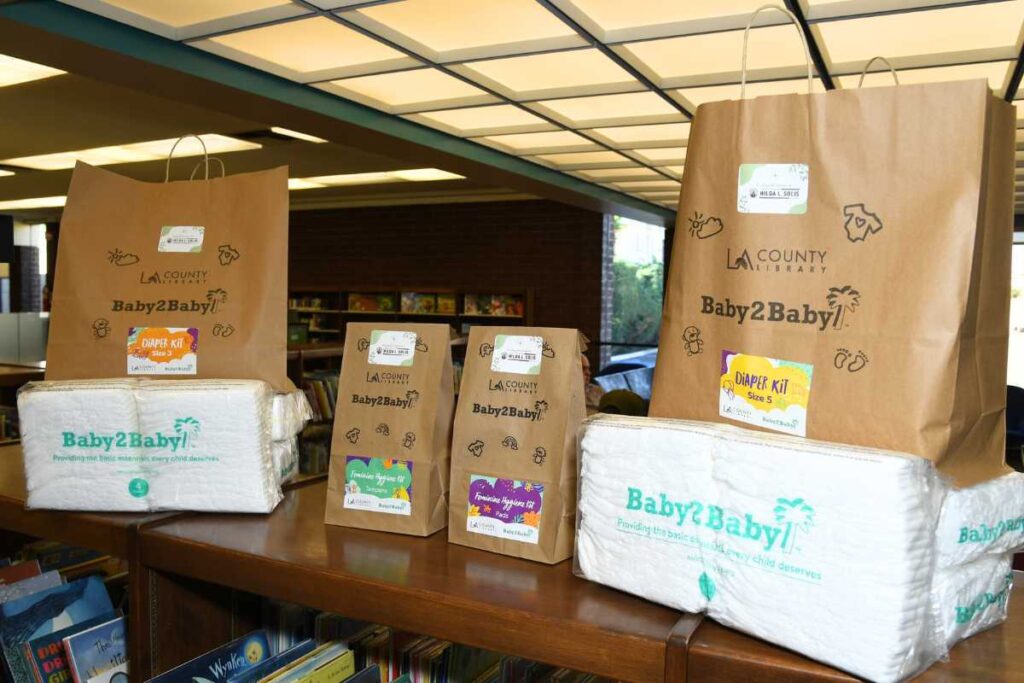 Supported by Los Angeles County Supervisor Hilda L. Solis and Baby2Baby, LA County Library will launch a pilot program providing diapers, wipes, and menstrual products at the following five libraries: Baldwin Park, Willowbrook, San Fernando, Pico Rivera, and Lancaster—with a press conference and family program at Baldwin Park Library on October 28 at 10 am.
The cost of diapers, wipes, and menstrual products can strain families that have already been disproportionally devastated by the pandemic and rising costs of living. The State of California, community colleges, and the City of Los Angeles have made strides to provide residents with menstrual products. Now, the County of Los Angeles is going a step further by not only proffering free menstrual products but also diapers and wipes at libraries, where parents, caregivers, and children frequently visit.
Stemming from a motion authored by Supervisor Solis these essential products, have been generously donated by Baby2Baby and will be provided to customers at the above 5 libraries.
WHO:
Los Angeles County Supervisor Hilda L. Solis; LA County Library Director Skye Patrick; Kelly Sawyer Patricof and Norah Weinstein, Co-CEOs, Baby2Baby; Baldwin Park Mayor Emmanuel Estrada
WHAT:
Los Angeles County Supervisor Hilda L. Solis and LA County Library Director Skye Patrick will host Hygiene Pilot Program Media Day. Followed by a bilingual, English/Spanish, family Storytime with Pilar DeNardo, Mama Maestra.
WHERE:
Baldwin Park Library, 4181 Baldwin Park Blvd, Baldwin Park, CA 91706. Media parking will be made available in the library's parking lot (media will be directed to the briefing area).
WHEN:
Friday, October 28, 2022, at 10 am
"We are excited to partner with Supervisor Hilda L. Solis and Baby2Baby as a destination for customers to pick up free diapers, wipes, and menstrual products," says LA County Library Director Skye Patrick. "LA County Library is a trusted safe space, and we are committed to providing our communities with the essentials needed for them to thrive."
"Inflation is impacting our residents in big ways and small—extending to essential items like diapers, wipes, and menstrual products. These are supplies families cannot go without," says Los Angeles County Supervisor Hilda L. Solis. "During the recent baby formula shortage, I steered the County to distribute $1.7 million for formula to families, and although the formula shortage has ameliorated, we owe it to our residents to provide free essential items in accessible locations like our libraries. That is why I authored the motion to pilot a program with our libraries providing diapers, wipes, and menstrual products. As they always do, Baby2Baby met the moment and is providing these products to our families during the program's pilot phase. I hope that these free products, whether they be diapers for babies or menstrual products for teenagers, offer families relief during these challenging times."
"We are so proud to be collaborating on this project with LA County Library and Supervisor Solis. The statistic that 1 out of 3 families in this country struggles to afford diapers for their children was one that inspired us 11 years ago to start providing basic essentials to families right here in Los Angeles. Over the past 11 years we have distributed over 270 million items to children in homeless shelters, domestic violence programs, foster care, hospitals and underserved schools as well as children who have lost everything in the wake of disaster. Diapers are always our #1 requested item and, time and time again, we have seen families living in poverty forced to make impossible choices between buying diapers and food for their children. With diaper prices at an all-time high, this partnership between Baby2Baby and LA County Library comes at a perfect time to help the families we serve," shared co-CEOs Norah Weinstein and Kelly Sawyer Patricof.
About LA County Library
Founded in 1912, LA County Library is one of the largest and most innovative library systems in the US. It offers free public resources including books, music, multimedia materials, computer and internet access, and educational and recreational services to 3.4 million residents across 3,000 square miles through its 85 community libraries, institutional library, and mobile fleet of 15 vehicles, including Bookmobiles, 6 MākMō (maker mobiles), 3 early literacy vehicles, and 2 mobile outreach vehicles. LA County Library is dedicated to reducing barriers and increasing access to and equity of public services for all. To learn more, visit LACountyLibrary.org and follow @LACountyLibrary on Facebook, X, Instagram, TikTok, and YouTube.
CONTACT:  pio@library.lacounty.gov