Introduction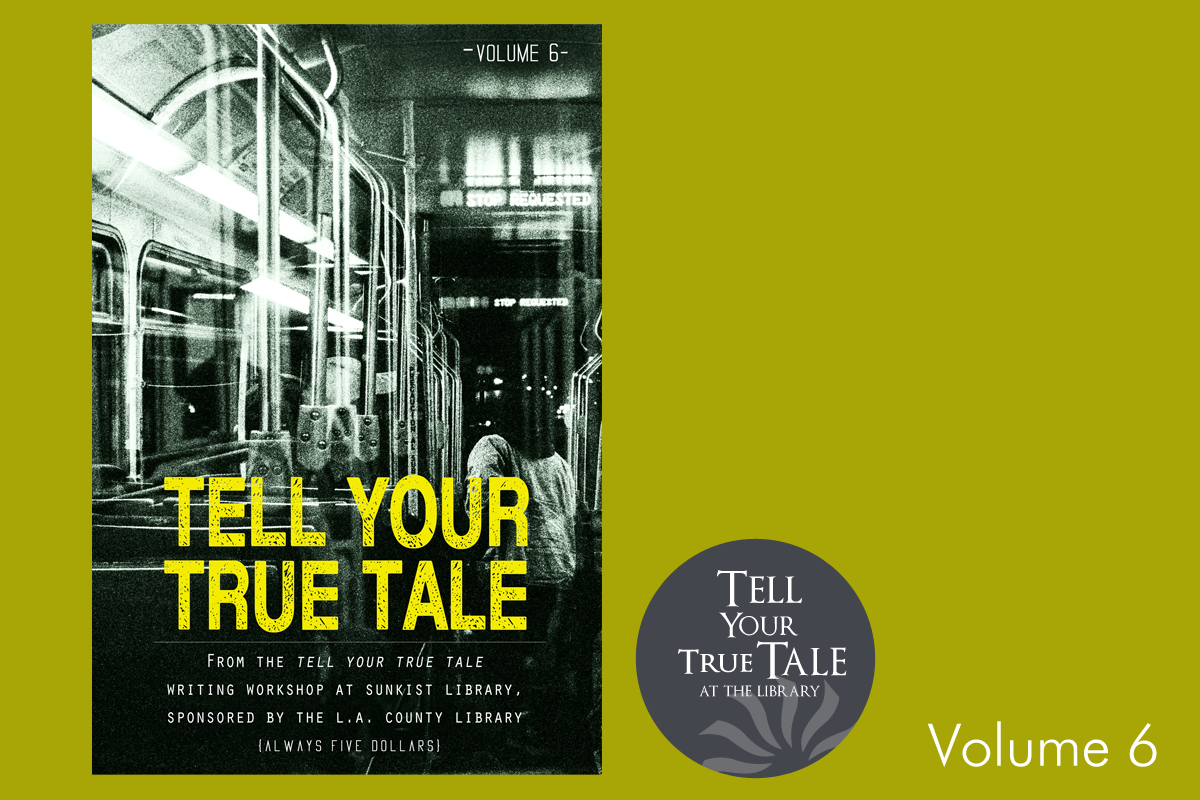 This Tell Your True Tale volume has its beginnings in a new place. The previous five volumes have all grown from workshops at East LA Library, and the friendly confines of the Chicano Resource Center.
But we've been wanting to include other libraries in our search for new writers and new stories. So this time we went to the cheerfully named Sunkist Library in the La Puente area. I thank Leticia Napoles, adult services librarian at Sunkist Library, for her hospitality in hosting us over the several weeks that we met.
As with previous volumes of true stories, this one is packed with amazing tales.
Peggy Adams starts the volume with a tale of the day her sister and brother died decades ago, and the aftermath to that tragic day. Gladys Ruacho narrates a visit to her parent's native Cuba and what she learned when she went there.
Monique Quintero remembers her uncle, who was finding ways of overcoming years of trauma. Trace Richardson tells the story of her departed aunt, a rock of love in her family. Jian Huang tells of her father's sudden blindness and what she did about it. Lena Solis recounts a moment in her son's struggle with addiction, and Sylvia Castaneda tells us of her departure for college and how her Mexican-immigrant father came to grips with it. Maria Fernandez tells us of the artifacts buried beneath her family's home in Mexico. Jasmine De Haro tells us of a visit to a funeral where didn't want to be.
We have continued the online editing service, with sponsorship of the good folks at the L.A. County Library. This service is for writers who have finished two or three TYTT workshops and want – need – editing more than anything else. It allows us to continue to open space for new writers into the workshops, while editing the veterans as they continue to pump out great narratives. It's all with an eye to our goal of creating a large community of writers and storytellers. In this volume, five writers were part of the online service: Celia Viramontes, Andrew Ramirez, Sarah Alvarado, CJ Salgado and Rita Ray.
Finding the stories in small moments is one goal of Tell Your True Tale. Another goal is to turn those nonfiction stories into tales that read like fiction. I believe the stories in this volume do that. But read and decide for yourself. I think you'll find it all the more wondrous that they were produced by people who, for the most part, had not written much prior to this.
Once again, I thank Daniel Hernandez, director of the Chicano Resource Center at the East L.A. Library, where these workshops have been held, and who was adventurous enough to allow them to first take place back in 2013, and who has become a partner in the TYTT journey.
Mary Yogi has been hugely helpful with the digital presentation of TYTT at the library's website. Thanks to Jesse Lanz, interim director of Adult and Digital Services for the library system, for his energetic support of these workshops. Eric Franco Aguilar, a TYTT alum, designed yet another terrific cover, his fifth for us.
Check out the county library's page dedicated to the project: http://www.colapublib.org/tytt/
Then we hope you'll come write a story of your own.
Sam Quinones