Read in the Library and Reduce Your Fines
LA County Library cardholders age 21 and under can get rid of library fines by reading them away. For every hour spent reading in the library, $5 in fines will be removed from your account. How easy is that?!
To participate in the program, children, teens and young adults up to age 21 may visit any library staff member, who will register them for the program and provide an overview of how it works. Sign in and out with the librarian to track time spent reading. Corresponding fees will be waived at sign-out.
Get a clean slate and a fresh start. Read away your fines!
#GreatReadAway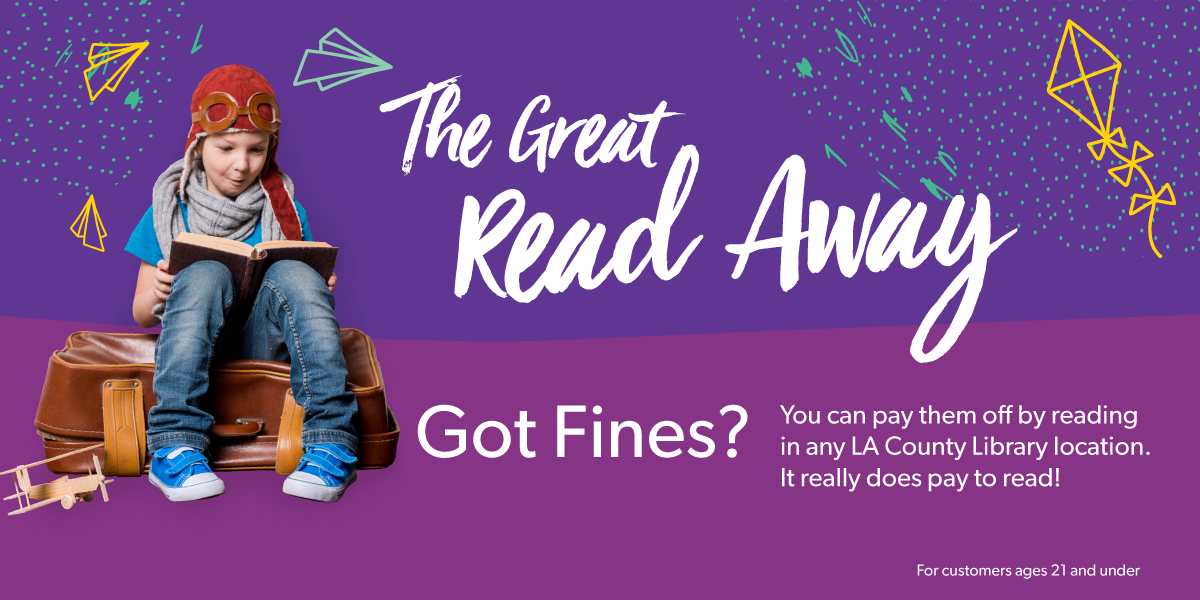 Frequently Asked Questions
If you're 21 years old or younger and have an LA County Library card with fines, you're eligible! You just have to log time reading at your local LA County Library. Check in with any staff member for help.
What fines will be waived?
Any and all fees accrued on your card, except meeting room fees. We will waive overdue fees, lost and damaged material replacement fees, TTC fees, and library card replacement fees.  If you have lost your library card and need a replacement, and you are participating in the program, let library staff know—it will be replaced without a fee.
If I don't have fines on my account, or I already paid the fines, can I get cash or credit for reading at the library?
No. The Great Read Away program waives outstanding fees only. No reimbursement of past fines or credit towards possible future fines will be provided.
Do I have to read for the full hour to receive credit?
While the program is based on a $5-an-hour credit system, let your library staff know if you can only read for a shorter period. They can help you customize a reading plan that works for you.
Do I have to read to receive credit, or can I watch a movie, listen to music or surf the web at my local library?
Only reading material qualifies for credit, but that means more than just books—you can also read graphic novels or comic books, magazines, newspapers, digital databases, articles, or eBooks. Listening to a book (audiobook on CD or OverDrive, or another person reading to you) also counts. Watching movies, even if based on a book, or listening to music do not count. Let your library staff know if you need help finding something to read.
Can I read to reduce fines accrued on another person's account?
A parent or caregiver may read to a child, thereby reducing the fees on the child's account (not the parent's). Otherwise, no, you must read away the fees on your own account and cannot reduce the fines of other cardholders.