Can you tell me more about el día de los niños/el día de los libros?
El día de los niños/el día de los libros (Children's Day/Book Day), commonly known as Día, is a celebration of children, families, and reading that culminates yearly on April 30. LA County Library is celebrating throughout the month of April and into May with a variety of in-person programs!
El día de los niños originated in Mexico in 1925 and has grown as an annual celebration that recognizes children, pays homage to their importance in society, and endorses their well-being. Pat Mora, a Texas native and nationally recognized author of children's books, first heard of this tradition in 1996. She got to thinking that one good idea (el día de los niños) should bred another (el día de los libros) and that there should be a link between the celebration of childhood and literacy.
For more than 20 years, Día has helped to meet the needs of an increasingly diverse population while also fueling understanding and acceptance.
Does LA County Library have any fun events for Día?
Absolutely! We have events for the whole family to celebrate el día de los niños/el día de los libros, and you're invited!
Join us as we celebrate children and families around the world by sharing fun stories, enjoying books, and creating paper bag piñatas at events throughout April at East Los Angeles Library, San Fernando Library, Hawaiian Gardens Library, Pico Rivera Library, and many other libraries (see below for details).
On April 20 at Culver City Julian Dixon Library, celebrate Día via song with Nathalia Music. On May 2 at Sorensen Library, join us for Bubbles Galore! where we'll learn about the science of bubbles in this fun, interactive program.
And these are just a sampling of all the great events we're hosting for Día! Please see below for more details and registration info for these and other great events at LA County Library.
Take-Home Activity Kits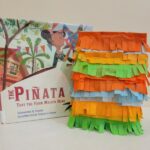 Most libraries that are not offering in-person programming to celebrate Día have take-home activity kits available, which include materials and instructions for making a paper bag piñata. Please contact your local library for details!