LA County Library was established in 1912 under authority of the County Free Library Act. The Library is a special fund department operating under the authority of the County Board of Supervisors. Today it is one of the major libraries of our nation, and provides library service to over 3.4 million residents living in unincorporated areas and to residents of 49 of the 88 incorporated cities of Los Angeles County. The service area extends over 3,000 square miles. Supplementing the 7.5 million volume book collection, the Library also offers magazines, newspapers, government publications and many specialized materials including online databases.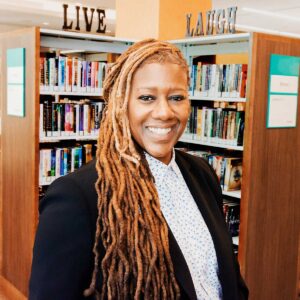 Skye Patrick was appointed LA County Library Director on February 1, 2016. She was previously Broward County Library's Director and held leadership roles at Queens Public Library in New York and San Francisco Public Library.
As the Library Director, Patrick brings a fresh enthusiasm and attitude to her position. From the start of her tenure, she engaged the community with a series of Visioning Sessions—a concept first conceived at Broward—which invited the public to meet with her to discuss what they'd envision their local library to offer.
She has made it her mission to break down barriers and increase access for all by introducing the iCount equity initiative, which ensures that LA County Library makes a conscious effort in designing services and programs that address the needs of the diverse community it serves. Under her leadership, local libraries are intentionally designing programs in systematic ways and Library staff is empowered to address issues with a more consistent and comprehensive approach.
Patrick has been diligent in her endeavors to make library services available beyond library walls and has championed and implemented 10 MākMō maker mobiles and 5 Reading Machine early literacy mobiles, both of which put library services on the road.
In continued efforts to eliminate barriers to library use, Patrick implemented a Fine Forgiveness Month in May 2017. With a direct focus on bringing youth back to the library, The Great Read Away program allows cardholders ages 21 and under to read down fines at their library. A fine-free student card was introduced as part of the Library Card Challenge, a national effort to ensure that every child enrolled in school has access to public libraries.
Patrick also established a Marketing team—which was awarded 2018 Marketer of the Year by Library Journal—with the goal of improving the Library's promotional efforts and creating awareness of the myriad of services the Library offers.
She focused on improving the information technology infrastructure by forming a new digital alliance with Microsoft, which allows the Library to update operating systems, and funding from the Federal Communications Commission's Schools and Libraries program to increase bandwidth for a faster internet connection.
Patrick was appointed to the Executive Board of the Urban Libraries Council (ULC), the premier membership association of North America's leading public library systems, in July 2017. ULC is on the cutting edge of library innovation, and Patrick has joined a dynamic team of leaders and works alongside the board to inspire libraries to evolve and grow.
In January 2019, Patrick was named Librarian of the Year by Library Journal, a national publication. The award honors outstanding achievement and accomplishment reflecting the service goals of librarianship, including free access to information for all, encouragement of reading enhancement and expansion of library services to all residents, and strengthening the role of the library within the community.
As the Library Director, Patrick continues to reinforce the Library's role in the community as a civic and cultural center, a hub for public information and services, and an institution of literacy, innovation, and lifelong learning.
Skye Patrick, County Library Director
562.940.8400
LibraryDirector@library.lacounty.gov