Are you Work Ready?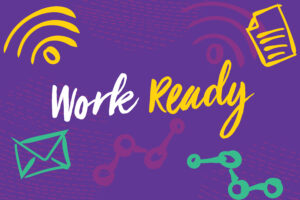 We know COVID-19 has heavily impacted our LA County communities, including record-setting job losses. Are you currently looking for a new job, looking to build new job skills, or seeking out new career opportunities, but don't have the device or internet connection to make that happen? Work Ready is here to help.
About the program:
A 6-week session

Session 4: 7/6/21 – 8/13/21
Session 5: 9/13/21 – 10/22/21
Session 6: 11/22/21 – 12/31/21

Participants borrow a laptop and wireless hotspot kit from one of 20 participating libraries

Participants receive special support items to aid in the job search process, which they can keep

Weekly virtual events will cover topics ranging from writing cover letters and interviewing to identifying high-growth careers and working from home
Interested in participating?
Program Schedule (Session 4)
All live programs will use the WebEx platform. Registration is required.
Tue, August 3, 11 am
How to Get Hired in Hospitality
Find out what it takes it succeed in the hospitality industry directly from the Hospitality Training Academy and a panel of hiring directors from some of Los Angeles's largest venues. Register here. 
Tue, August 10, 11 am
Busting Myths on the Future of Work
Conventional wisdom around the future of work is largely dominated by concerns of a robot apocalypse or a skills gap. These narratives focus more on technical change displacing workers, rather than how technology shapes the nature of work and, importantly, the workers' experiences. In this presentation, Georgia Gillan, Research Manager at Institute for the Future, will give an overview of the myths around the future of work, and pathways toward a worker-centric California. Register here. 
Frequently Asked Questions
Program Enrollment
How can I attend the Work Ready programs?
Programs will be held every Tuesday during the 6-week session either as live programs on WebEx or videos posted on YouTube. A program schedule will be included in the Work Ready Kit, and you can also see upcoming programs on our virtual programming page.
Which libraries are part of the program?
There are 20 libraries participating in the program, including: Charter Oak, Compton, East Los Angeles, East Rancho Dominquez, Florence, Graham, Hawaiian Gardens, La Puente, Lake Los Angeles, Lancaster, Lennox, Los Nietos, Norwalk (Express), Quartz Hill, Rosemead, San Fernando, South Whittier, Topanga, Willowbrook, and Woodcrest.
How do I check out a Work Ready kit?
200 laptop and wireless hotspot kits are available for each session on a first-come, first-serve basis. Pre-registration required. Once you fill out the form below, LA County Library will contact you with further information on when you can pick up your Work Ready kit.
To sign up, fill out this form.
Please note, the dates for these sessions are subject to change. Check back for updates and future scheduled sessions.
Laptop Kit Check Out
Who can check out a Work Ready kit?
Adults with a standard adult library card that is in good standing will be able to check out a Work Ready kit at a participating library. Filling out a pre-registration form is required.
If you don't have a library card or have a digital library card with LA County Library, you can get a standard card at any of our Sidewalk Service locations. Please remember to bring your supporting documents. For more information, see: Library Card ID Requirements (pdf).
Am I required to attend the virtual programs if I want to check out the Work Ready kit?
The live events and videos are part of the benefits of the Work Ready program. Participants are encouraged to attend the events either live or watch the recorded videos at a later time.
Will the library have my kits reserved for me?
Yes, the library you signed up for will have your name and information on-hand to make sure that you receive your laptop and support kits.
How long can I keep the Work Ready kit?
The Work Ready laptop and wireless hotspot kit can be borrowed for the six-week session. They cannot be renewed.
Laptop Kit Return
How do I return the Work Ready kit?
Work Ready kits must be returned in person during service hours at the library location that you originally checked out the item. They cannot be returned at the bookdrop or a different library location. Please call the owning library to arrange a drop-off time and call again once at the library to alert staff. Staff will bring out a box labeled Laptop Return to the Sidewalk Service table. You'll be instructed to remove all items – the Chromebook, the wireless hotspot, and both charging cables – from the carrying case. Put the case into the box first, on the bottom, and then put all other items in on top. Staff will check the box to make sure all items are inside and that they look fine. All items will be quarantined for 4 days and confirmed to be working properly before being checked in. Staff will contact you if there are any questions or concerns. Please remember that the loan will still show on your account until the quarantine and check-in process is complete.
What if I return the Work Ready kit late? Are there late fees?
Late fees will be assessed the same as all other library materials. The Work Ready laptop will become disabled once the loan period has ended.
Will my documents stay on the Chromebook after I return it?
All documents are deleted every time the laptop is shut down. This will happen even during your 6-week checkout period, so we advise you to back up your documents on a flash drive or in Google Docs if you want to save your work.
Technical Questions
Does the Chromebook include the internet?
A wireless hotspot device is included when you check out the Chromebook. This will give you access to the internet.
Will library staff provide instructions on using the equipment when I check it out?
A basic instruction sheet will be provided explaining how to turn on and connect the equipment. For additional support, please call the library where you picked up the laptop during their service hours.
I am not good with computers. Will Library staff help me use the Chromebook or answer technical questions?
Library staff is able to provide basic help with your computer—like how to turn it on, connect the wireless hotspot, or how to locate programs. For help, please call the library where you picked up the laptop during their service hours.