Library Journal's 2019 Librarian of the Year
Library Director Skye Patrick Recognized with National Award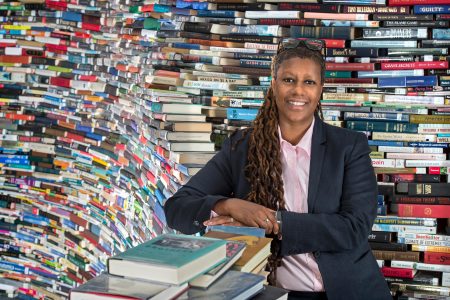 Skye Patrick directs LA County Library with creativity and an inclusive spirit. She took the helm as Library Director in February 2016, with ambitions to champion change and position the Library as a center of learning accessible to all residents of Los Angeles County. She's done just that, and so much more, as made clear by a national award: Library Journal, a national trade publication for library staff, has named Patrick 2019 Librarian of the Year.
Since 2016, Patrick has focused on breaking down barriers and increasing access for all customers. Embracing the unique communities the Library serves, she launched the iCount equity initiative, ensuring the Library makes a conscious effort in designing programs that address the needs of its diverse residents. Under her leadership, we have introduced many award-winning programs, like The Great Read Away, Turns the Tables DJ workshops, and MākMō maker mobiles, and expanded service hours by over 15,000 hours across 75 library locations without incurring additional costs. Patrick is also working to meet customers' technology needs—starting this year, a new digital alliance with Microsoft will allow us to begin updating the operating systems of over 2,200 public computers, and funding from the FCC's Schools and Libraries program will enable us to increase the speed of our internet connections.
"It is a great honor to be recognized by Library Journal, one of the industry's most reputable publications," said Patrick. "This is not only a recognition for me, but also a recognition for the entire LA County Library team. They work so hard and are committed to providing the best service to our customers; without the support of our staff, I would not be able to achieve what I have set out to do."
Library Journal presents this award to a professional librarian for outstanding achievement and accomplishment reflecting the service goals of the library profession, including free access to information for all, encouragement of reading, creation of incentives to increase use of materials, enhancement and expansion of library service to all residents, and strengthening of the role of the library within the community.
Congratulations, Skye! Read the full article here.