Trailblazers in Conversation
Join LA County Library Director Skye Patrick for Trailblazers in Conversation, a dialogue series featuring politicians, authors, community organizers and other trailblazers who are making a difference in our community.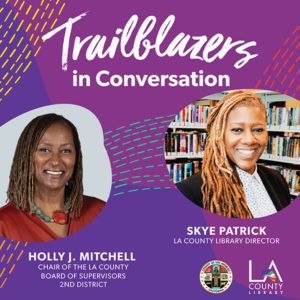 Monday, June 13, 5:30 – 6:30 pm
Join Supervisor Holly J. Mitchell and Library Director Skye Patrick for a special Juneteenth edition of Trailblazers in Conversation. Enjoy an informative and engaging conversation about racial justice and LA County's efforts to build back equitably after the pandemic. This event will be held virtually on Cisco Webex. For all ages.
Register here.