Celebrate with us throughout October!
Join us in a month-long celebration of all things related to teens and reading. Re-read a favorite book or find a new title to share with a friend. Read for fun, for school, or to be inspired!
Check out the activities below! Explore new books using our booklist recommendations or make your way to your nearest library to browse the shelves in person. Write a 6 Word Book Review to receive a prize! Learn to make your own botanical bookmark and repurpose old books to create unique art. And don't forget to check out our events calendar for info about programs for teens throughout the month. Happy reading!
6 Word Book Reviews!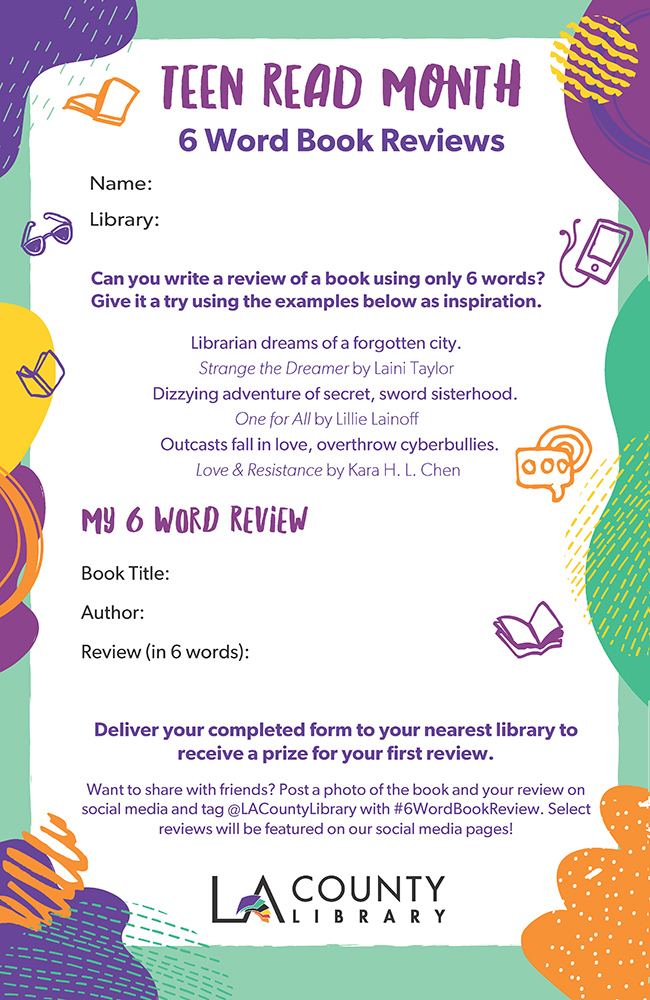 Pick up a 6 Word Book Review form at your nearest LA County Library location or download and print. Deliver your completed review to your nearest library and earn a prize for your first review!
Can you write a book review of your favorite book using only 6 words? Give it a try using the examples below as inspiration.
Want to share your 6 Word Book Review with friends? Post a photo of the book and your review on social media and tag us @LACountyLibrary with #6WordBookReview. Select reviews will be featured on our social media pages.