About Día
El día de los niños/El día de los libros (Children's Day/Book Day), commonly known as Día, is a celebration every day of children, families, and reading that culminates yearly on April 30, but we're celebrating throughout the month of April and into May with virtual and in-person programs!
Día is a nationally recognized initiative that emphasizes the importance of literacy for all children from all backgrounds.  In 1996, children's author Pat Mora was influenced by the annual Mexican tradition of El Día De Los Niños and proposed linking the celebration of childhood and children with literacy. For more than 20 years, Día has helped to meet the needs of an increasingly diverse population, while also fueling understanding and acceptance.
Take-Home Activity Kits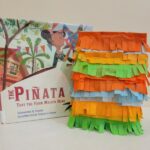 Most libraries that are not offering in-person programming to celebrate Día have take-home activity kits available, which include materials and instructions for making a paper bag piñata. Please contact your local library for details!