Asian Pacific American Heritage Month
History
National Asian Pacific American Heritage Month recognizes and celebrates the culture, contributions, and heritage of Asian Americans and Pacific Islander Americans. President Jimmy Carter signed a joint resolution declaring May 4-10, 1979, as the first Asian Pacific Heritage Week. In 1990, President George H. W. Bush signed an extension changing Asian Pacific Heritage Week to a month-long observance.
The month of May was chosen to commemorate the immigration of the first Japanese to the United States on May 7, 1843, and to mark the anniversary of the completion of the transcontinental railroad on May 10, 1869. The majority of the workers who laid those tracks were Chinese American immigrants.
Asian Pacific Resource Center
The Asian Pacific Resource Center at Rosemead Library was established to serve the needs of the Asian Pacific Islander community in Los Angeles County and to make information about the history and culture of this group available to the general public. Follow the APRC on Facebook for AAPI news, program info, collection spotlights, and more.
Stop AAPI Hate
LA County Library remains steadfast in its commitment to advancing equity, inclusivity, and justice for all members of our society. As a gateway to knowledge and access, we have a civic and ethical responsibility to support the advancement, well-being, and resilience of all people. To help propel our mission, we offer a variety of resources and programs to help individuals cultivate and enhance skills and broaden their understanding of other cultures and social issues. Visit our Stop AAPI Hate blog post to see a list of resources.
Share Your Immigration & Citizenship Stories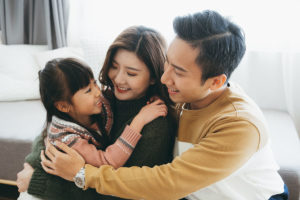 Los Angeles County is a region of immigrants, and each has a unique and wonderful story to tell. We want to hear yours! Do you remember the day you left? How did you feel when you first became a naturalized citizen? No matter your country of origin or current status, consider sharing your journey with us. Submit your stories in any form such as written narratives (Doc, PDF), images, audio, or video. Submissions will be reviewed and then posted on our LA County Library Community Collections so others can learn and grow from your experiences.
National Asian Pacific American History Month website. The Library of Congress, National Archives and Records Administration, National Endowment for the Humanities, National Gallery of Art, National Park Service, Smithsonian Institution and United States Holocaust Memorial Museum join in paying tribute to the generations of Asian and Pacific Islanders who have enriched America's history and are instrumental in its future success.
Asian Pacific American Heritage Month – PBS. Celebrate Asian Pacific American Heritage Month this May and every day with a special PBS collection of stories that explores the history, traditions and culture of Asians and Pacific Islanders in the United States.
U.S. Census Facts and Features, Asian Pacific American Heritage Month 2021.
Asian Collections at the Library of Congress. With over 2.8 million books, it is one of the most comprehensive collections of Asian language materials outside of Asia.
Asian American Pacific Islander Collection at the Library of Congress. Comprises a number of individual collections pertaining to notable AAPI authors, scholars, activists, and artists including unique material, such as correspondence, manuscript drafts, diaries, photographs, organizational records, interviews, and speeches.
Visit the Asian Pacific Resource Center Reading Room on Overdrive for a curated collection of eBooks and audiobooks by and about Asian Americans and Pacific Islander Americans for all ages.
Stream Kanopy's selection of Asian and Pacific Islander feature films and documentaries.