Martin Luther King, Jr.
Honoring Dr. King's Legacy
Who Was Martin Luther King, Jr.?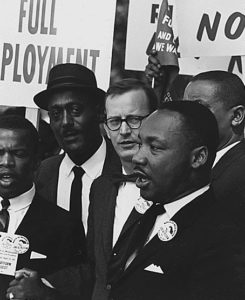 Born on January 15, 1929, Martin Luther King, Jr. (MLK) was a Baptist minister from Georgia who inspired millions of people around the world with his commitment to non-violence as a means of achieving positive change.
Dr. King was the most influential civil rights leader our nation had known. When Rosa Parks refused to give up her seat to a white passenger on the bus, MLK led the Montgomery Bus Boycott. He was instrumental in organizing The Great March on Washington, which was attended by over 250,000 people and laid the foundation for the Civil Rights Act of 1964.
A believer in non-violent protest, MLK was, at the time, the youngest recipient of the Nobel Peace Prize in 1964, which he received for leading non-violent resistance to racial prejudice. He was assassinated on April 4, 1968, in Memphis, but not before changing the face of American Society, illuminating injustice, and leading us toward better equity and understanding for all.
In 1983 the Federal Government designated the third Monday in January as Martin Luther King, Jr. Day to celebrate his contributions to our country. By the year 2000, all 50 states had also declared the date a state holiday.
What Did Martin Luther King, Jr. Say to Inspire So Many People?
The number of inspiring quotations from MLK is too great to list, but perhaps his most famous quotation came from his iconic I Have a Dream speech—considered by many to be the greatest American speech of the 20th century—in August, 1963: "I have a dream that one day this nation will rise up and live out the true meaning of its creed: We hold these truths to be self-evident, that all men are created equal… I have a dream that my four little children will one day live in a nation where they will not be judged by the color of their skin but by the content of their character. I have a dream today."
What is LA County Library Doing to Celebrate the Legacy of Martin Luther King, Jr.?
We have events throughout January to commemorate MLK, and you're invited! At Graham Library, you can recreate the iconic "I have a Dream" speech at the Lincoln Memorial with a construction paper collage. At El Monte Library, you can share stories and create and decorate your very own paper plate peace sign. And at La Verne Library and  Stevenson Ranch Library, kids can decorate their own jar and fill it with dreams for themselves and the world! And if you can't make it, try borrowing one of the titles on our booklist. See below for more details and event registration info!