Community Service During COVID-19
Library Staff Step Into New Roles
We've always been dedicated to serving the communities of LA County, but now more than ever, with doors to our buildings closed to the public since mid-March, Library staff have met the challenges LA County faces head-on, using their unique and diverse skills to step into new roles to bring essential services to communities during the COVID-19 pandemic.
Contact Tracers
More than 150 Library staff have joined hundreds of other LA County staff working as Disaster Service Workers, and specifically, as Contact Tracers. After extensive training with the Department of Public Health, they are contacting those who may have been exposed to COVID-19, conducting interviews, and working to help reduce the spread of the virus with one-on-one phone calls. Library staff are able to use their finely-honed interpersonal and reference skills to assist with this vital project.
Mask Sewing & Printing
Drawing on the creative skills of staff, we joined efforts to provide much-needed protective personal equipment (PPE) to assist those on the frontlines. Using sewing machines borrowed from our MākMō maker mobiles and fabric repurposes from Library sewing programs—or donating their own supplies—staff have volunteered to sew face masks, and have created over 4,500.
Photos courtesy of LA County
In partnership with the Department of Health Services (DHS) and the Rancho Los Amigos National Rehabilitation Center's Shield Makers project, and thanks to a donation of 3D printers, we were able to print almost 8,000 mask extenders to alleviate ear pain from elastic bands and over 1,500 headbands for plastic face shields, which were distributed to healthcare workers in hospitals.
Housing & Food
In addition to providing materials to frontline workers, the Library also contributed to projects that care for LA County's most vulnerable community members. We partnered with United Way and Project Roomkey to prepare 7,000 care kits for residents, and a number of library staff are directly assisting at Project Roomkey sites.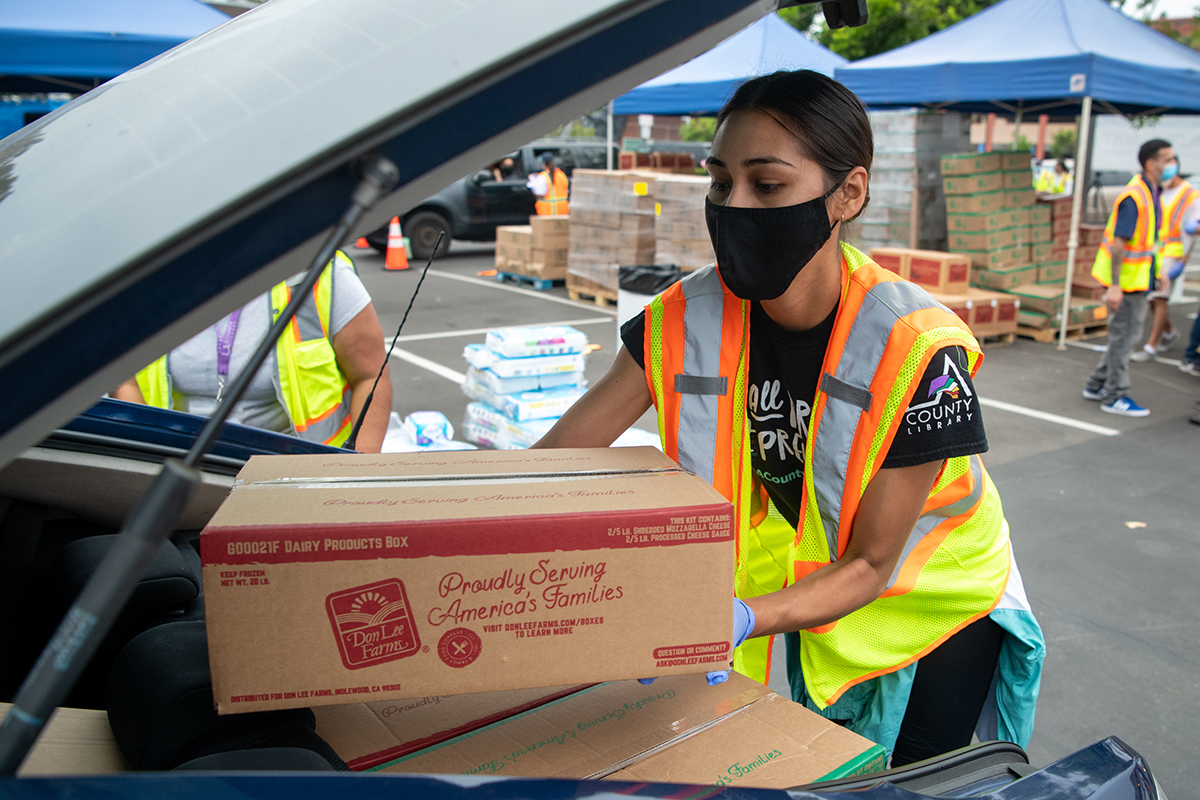 Photos courtesy of LA County
Multiple Library locations and our headquarters office have also hosted drive-through food distribution events in partnership with the Los Angeles Regional Food Bank, distributing boxes of food to households struggling with food insecurity.
Despite challenging circumstances, we're committed to providing LA County residents with services that support their needs, whatever the future brings.